Thanks Letter for 2014 ABE Christmas Party
2014年商会联合圣诞慈善派对感谢信 
Dear AmCham Members & Friends,
On Saturday December 13th, the American Chamber of Commerce in Southwest China, the British Chamber of Commerce in China Southwest and the European Chamber of Commerce in China Southwest Chapter brought together over 400 distinguished guests at the Ritz-Carlton Chengdu for the 2014 ABE Annual Charity Christmas Party. Business owners, government officials, business leaders, Consul Generals and other distinguished guests gathered for an evening of great food, entertaining performances, and holiday cheer. It was a joyous, relaxed evening that brought together some of Chengdu's most influential figures. One-hundred percent of the event's proceeds were donated to the Chinese Relief and Development Foundation, which focuses on providing opportunities and support to disadvantaged children in China.
2014年12月13日周六晚,中国西南美国商会联合英国商会、欧州商会在成都丽思卡尔顿酒店举办了2014商会圣诞慈善晚会。该晚会是西南地区最大和最具影响力的慈善盛会之一,到场嘉宾逾400人,名流济济,精英荟萃,即包括商界领袖,又包括政界精英,更有各国驻成都总领事以及其它尊贵的客人。本次晚会呈现了精彩的表演和美味的菜肴,充满了圣诞的节日气息。晚会欢声笑语不断,成都各界名流济济一堂,畅叙友谊,结识朋友。本次慈善庆典所筹钱款将悉数捐赠给四川省科技扶贫基金会用于帮助留守和贫困儿童。
The event, as a whole, was undoubtedly a success. Attendees enjoyed each others' fine company, making new connections and greeting familiar faces, while later on a variety of traditional and modern musical and dance performances entertained the audience as they ate and drank. Attendees were at their most attentive, of course, as the lucky draw raffle prizes were being announced and drawn. The prizes, which were donated by our generous members and sponsors ranged from expensive bottles of alcohol signed by famous athletes to international airline vouchers. Most importantly, a great amount of money was raised for a great cause.
本次晚会圆满成功,到场嘉宾既享受了和老朋友的欢聚,又有机会结识新的朋友,而且在享受美酒佳肴的同时更是欣赏了各种传统和现代、国内和国外的歌舞表演。在现场的几轮幸运抽奖更是高潮迭起,赚足了嘉宾的眼球。抽奖的奖品都是由慷慨的会员和赞助商提供,既有贝克汉姆签名的威士忌,又有国际往返机票和其它精美的礼物。但最为重要的是, 本次晚会为慈善事业筹得了许多善款。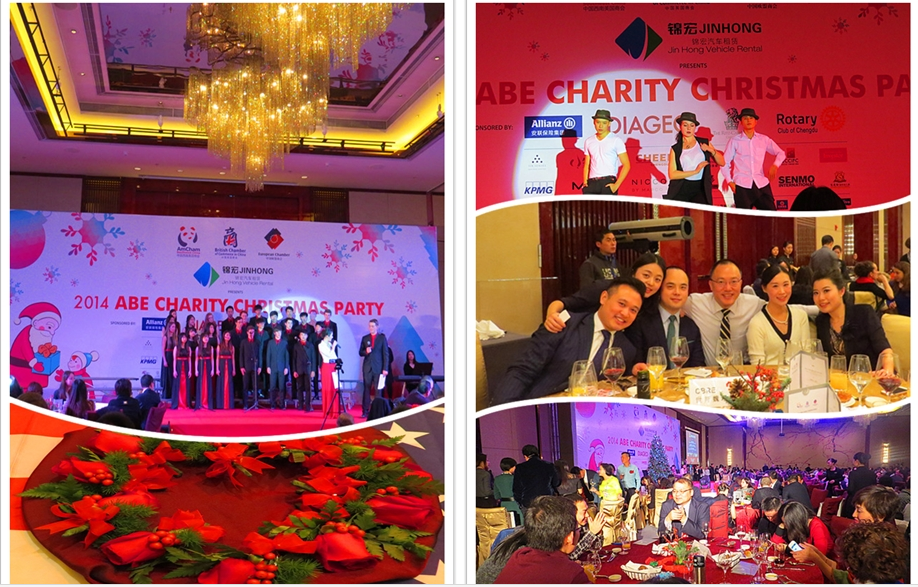 Thank you to all our members and guests. Here AmCham also would like to acknowledge our sponsors:
我们衷心地感谢所有会员、以及各位嘉宾朋友们的支持!美国商会再一次感谢赞助商的鼎力支持!
冠名赞助商 Title sponsor
成都锦宏商务旅游汽车租赁公司(Jinhong Vehicle Rental Co. Ltd. )
现金赞助 Cash sponsor
中德安联人寿保险有限公司四川分公司 Allianz China Life Insurance Co., Ltd. Sichuan Branch
扶轮社 Rotary Club of Chengdu
花样年·隆堡成都酒店 Rhombus Fantasia Chengdu Hotel
兴高置业成都 Cheers Properties
Come to Chengdu网站: 您的官方旅行指南Come to Chengdu
四川省宏图圣达出入境服务有限公司 Sichuan Hongtu Shengda Overseas Affairs Service Co.,LTD
通译翻译 TongYi Translation
联合利华饮食策划 Unilever Food Solutions
场地赞助商 Venue Sponsor
丽思卡尔顿酒店 The Ritz-Carlton Chengdu
酒类赞助商
帝亚吉欧洋酒集团 Diageo
媒体支持 Media
兴高成都 Cheers Chengdu
我爱成都杂志 MORE Magazine Chengdu
四川电视台 Sichuan TV
西部外商 West China Foreign Investor Magazine
头奖赞助商 Lucky Draw Top Prize
国泰及港龙航空 Cathay Pacific Airways and Dragon Airlines
丽思卡尔顿酒店 The Ritz-Carlton Chengdu
成都尼依格罗酒店 Niccolo Chengdu
花样年·隆堡成都酒店Rhombus Fantasia Chengdu Hotel
青城山六善酒店 Six Senses
瑞泰口腔 Rytime Dental
幸运抽奖 Lucky Draw
高新皇冠假日酒店 Crowne Plaza Chendu West
总府皇冠假日酒店 Crowne Plaza Chengdu City Centre
四川省科技扶贫基金 CRDF
瑞典布鲁雅尔空气净化器 Blue Air
环球成都医疗中心 Global Doctor
中德安联人寿保险有限公司四川分公司 Allianz China Life Insurance Co.Ltd.Sichuan Branch
汉吟教育信息咨询有限公司 Hanyin Education Consulting
重庆洲际酒店 Intercontinental Chongqing
懒巴哥西餐厅 The Lazy Pug
The SPOT
酩悦轩尼诗帝亚吉欧洋酒(上海)有限公司 Moet Hennessy Diageo
成都亚非牙科有限公司 YaFei Dental
易储安自助仓储. Self Storage Chengdu
拍卖奖品 Auction Prizes
Janina Lorelei Simion
安东尼奥 Antonio Wehrli
礼品赞助 Gifts
百汇医疗 Parkway Health
中德安联人寿保险有限公司四川分公司Allianz China Life Insurance Co.Ltd.Sichuan Branch
乐盟国际学校 Leman International School
啤酒窝酒吧/餐吧Beer Nest 1&2
礼品袋赞助 Gift Bags
中德安联人寿保险有限公司四川分公司Allianz China Life Insurance Co.,Ltd. Sichuan Branch
成都宋庆龄国际幼儿园 Song Chin Ling International Kindergarten Chengdu
表演赞助 Entertainment
成都国际学校 CIDS
美国舞邦国际舞蹈培训 Sinostage Entertainment Company
Nina Lorelei Simion
大番茄俱乐部 Funkid Club
金苹果学前教育集团 Golden Apple Preschool Education Group
江安县怡乐镇中心学校 Jiangan Yi Le County School
牛津国际公学成都学校 The Oxford International College of Chengdu
金苹果 Golden Apple
卡奇亚 KA QI YA
成都烈马美式橄榄球啦啦队 Chengdu mustangs American football cheerleaders team
审计及印刷 Audit Partner & Printing
毕马威企业咨询(中国)有限公司成都分公司 KPMG
博腾电子科技 Proton