American Independence Day Celebration 2015
2015 American Independence Day will be held on July, 4th,  2015 Saturday by Amcham Southwest. American Independence Day Celebration is AmCham Southwest's largest and most exciting event of the year, every year over 1200 guests from more than 300 member companies attend this event. Our members represent the industry leaders from all renowned enterprises and Fortune Global 500, social elites, celebrities and high-profile expatriates. Local media Chinese Government and the US Consulate General in Chengdu will be present to fully support this event.
The sponsorship and ticket reservations open  now! The celebration is a brilliant opportunity for brand promotion, marketing,  business networking, a family outing, as well as corporate team building.
Come and join us!
美国商会将于7月4日(周六)举行美国独立日庆典,即美国国庆节盛典,该庆典是美商会一年中最盛大的庆典和嘉年华慈善活动。来宾共超过1200人,集中了西南地区所有知名企业、500强会员高管、精英与时尚人士,社会名流和高端外籍人士。当地媒体、我国政府官员和美国领事馆及其他外国领事馆官员都会出席。
如此大规模和集中了成都地区所有高端人群并精准定位高端客户的活动,美商会每年只举办一次,相信会为贵公司精准定位中高端客户群提供非常难得的机会。由于该庆典是慈善活动,美国商会不仅为赞助商提供活动现场的曝光和广告机会,同时也会赠送价值数万的活动后的美商会刊物免费广告机会。
加入我们吧,一起欢庆这不同寻常的美国独立日!
Date: 2015.07.04 Saturday
Time: 17:00-22:00
Venue: To be confirmed
Number of guests: 1200
Keynote: International/Fashionable/Networking/Entertainment
Guests: CEOs, senior managers from Fortune 500s, consular officers,professionals, expantsand their families, locals, etc.
活动日期:2015年7月4日周六
活动时间:17:00-22:00
活动地点:待定
活动人数:1200位高端人群
活动基调:国际化、时尚化、商务社交和娱乐
参与人群:500强企业CEO、外企高管、外籍商务人士、各大外国领事馆官员、本地知名人士、白领和时尚人群等
★该庆典是美国商会每年在成都举办的最大、最具影响力、最高商务层面的国际盛会。
赞助类型如下:
Types of sponsorship are as follows:
1. Diamond Sponsor  冠名赞助商(仅此一席)          
   RMB 50,000 in Cash (only one available)  现金赞助50,000元
• Your company's name added to the event name
• Your company's ads on stage and rotating slide shows
• Your logo highlighted in the center of the backdrop
• Give opening speech and get acknowledgements from MC and AmCham Chairman
• Free advertisement on front of AmCham Directory (front cover, valued RM B 30,000)
• Two premium booths (20 m²each)
• 65 free VIP tickets (total value RMB 20,000)
本次庆典盛会的独家冠名权
贵公司名将置于庆典活动名称前
会场投影仪循环播放贵司宣传片
所有背景墙中心位置展示贵公司logo
主持人和美商会会长开幕式上致辞感谢
美商会会员目录价值30,000元免费封面广告一期
20平米超大豪华展位
65张免费贵宾门票(总价值20,000元)
2. Ticket Naming Right Sponsor  门票冠名赞助(仅此一席)   
 Sponsorship rate: RMB 20,000  in cash  现金赞助20,000元人民币
• Display your company logo on all event tickets
• Your logo added to backdrop
• Freead space in AmCham magazine (one full  page value of  RMB10,000)
• One premium booth (9m²)
• 25VIP tickets
可获得本次庆典活动门票冠名权
本活动门票上都将展示贵司logo
在所有背景墙上展示贵公司logo
美商会杂志价值10,000元免费内页整版广告一期
9平米豪华展位一个
25张免费贵宾门票(价值7,000元)
3. Platinum Sponsor  铂金赞助商
 Sponsorship rate: RMB 5,800  现金赞助5,800元人民币
•Your logo displayed on backdrop
•One premium booth (9m²)
• Free ad space in AmCham magazine (half  page value of RMB3,000)
•  10 VIP tickets
•可获得在所有背景墙上展示贵公司logo
•4平米标准展位一个
•5张免费贵宾门票
4. Gold Sponsor  黄金赞助商
Sponsorship rate: RMB 3,800
•Your logo displayed on backdrop
•One standard booth (4m²)
•5 VIP tickets
 现金赞助3,800元人民币
•可获得在所有背景墙上展示贵公司logo
•4平米标准展位一个
•5张免费贵宾门票
◆ F&B Sponsor  餐饮赞助商
Must provide enough for 400 people
每家餐饮赞助商需提供400份食物
Exclusive Privileges:
•Your logo displayed on backdrop
•One premium booth ( 9 m²)
•10 VIP tickets and 5 Staff Cards
 餐饮赞助回报:
•所有背景墙上展示贵公司logo
•9平米豪华展位一个
•10张免费贵宾门票和4张员工证
◆RafflePrize, Performance and Service Sponsor
奖品、表演和服务赞助商
Minimumprize donation value: RMB10,000
赞助奖品市场价值不得低于10,000元人民币
Exclusive Privileges:
•4 VIP tickets for donation value over  RMB10,000
•Logo display on backdrop
•奖品价值超过10,000元人民币可获得4张免费贵宾门票
•在背景墙上展示logo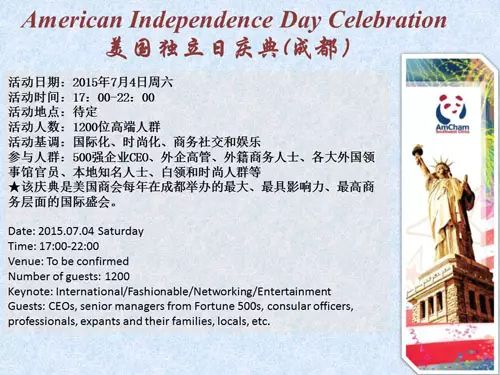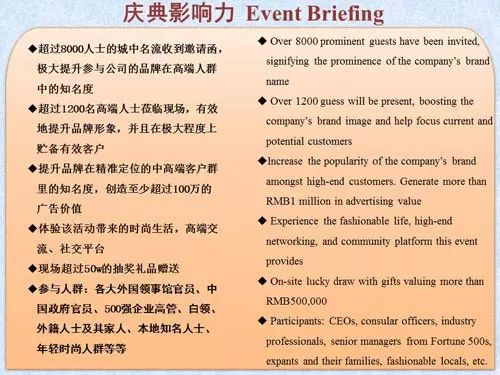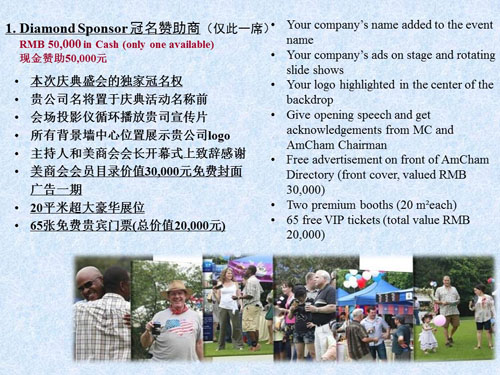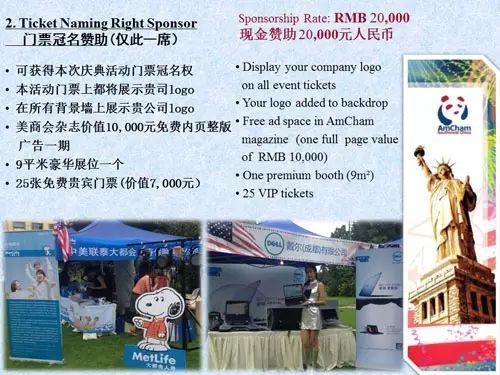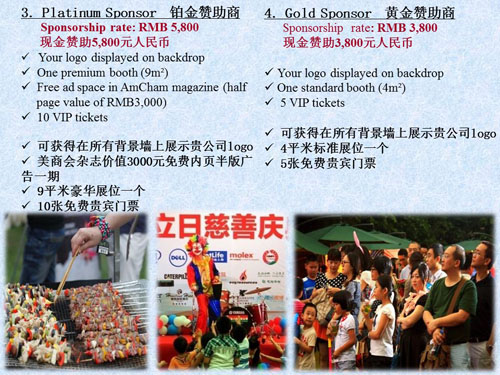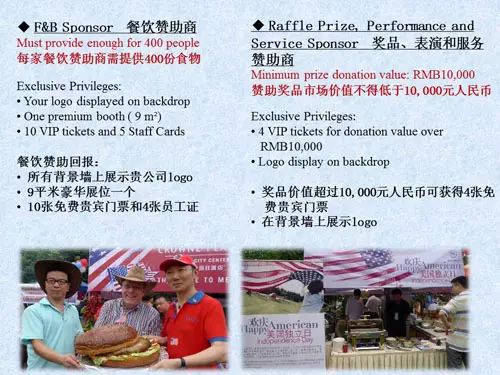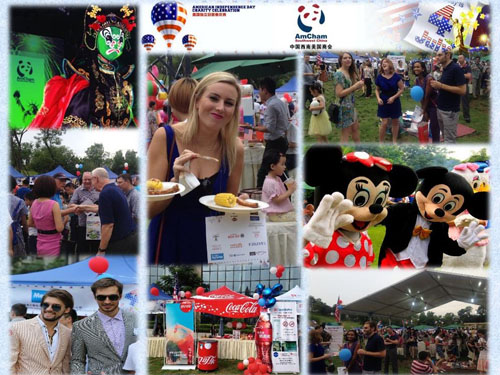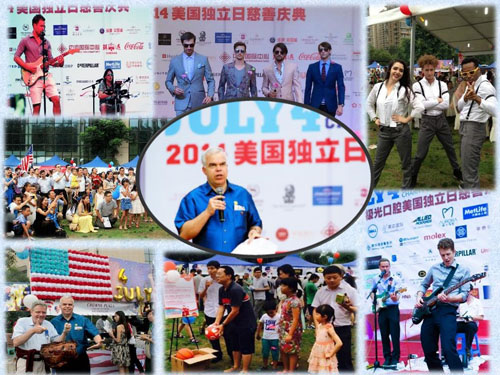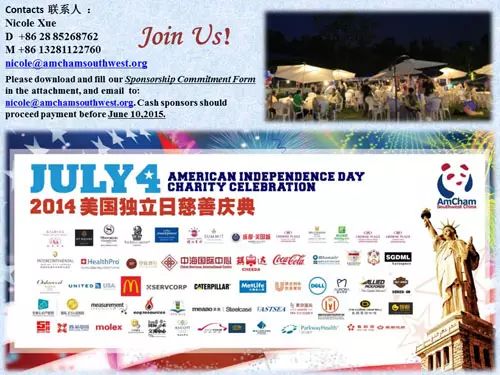 To confirm, please kindly make a scanned  copy of the completed Sponsorship Commitment Form and email to nicole@amchamsouthwest.org  by June 10, 2015. Thank you!
确认赞助,请填写此表格在签字盖章后将扫描件于6月10日前电邮至:      nicole@amchamsouthwest.org
谢谢!
2015年美国商会独立日庆典赞助确认表 Sponsorship Commitment Form