AmCham Spring Mixer & New Member Welcome Party (Chengdu) | Apr 21, 2016
Dear members and friends, come and join us at this AmCham Spring Mixer & New Member Welcome Party to mingle with both old and new friends. Take this opportunity to network, exchange business and life experience, and learn more about AmCham Southwest's activities, services and events.
Five star hotel buffet dinner
Free drinks
RMB150/member
RMB300/non-member
(limited seats, please R.S.V.P)
April 21 Thursday evening 18:00-21:00
Venue: 2F, Ballroom,Millennium Hotel Chengdu, No. 41 South Shen Xian Shu Road Hi-Tech District 
Malvern College Chengdu
Tesla Automobile Sales and Service (Chengdu) Co., Ltd.
Rheem (China) Water Heater Co.,Ltd
Hilton Chengdu
HP (China) Co.,ltd
Jabil Technology(ChengDu)Co Ltd
Anderson & Anderson LLP
ChengDu Flover Jewelry Co.Ltd
Chengdu Biaodian Culture Advertising Co.,Ltd
Global Doctor International Medical Center
Pureliving Indoor Environmental Solutions
QSI Chengdu
The Top Healthy Medical Management Co.Ltd.
Lunker Luxury Travel Agency
Wanda Reign Chengdu
Bybo Dental Group
Goldmark Investments Group Party Ltd.
Chengdu Yafei Dental Luomashi  Clinic
Chengdu Y – power Culture Communication Co., Ltd
Rockwell Collins CETC Avionics Co.Ltd
Ommay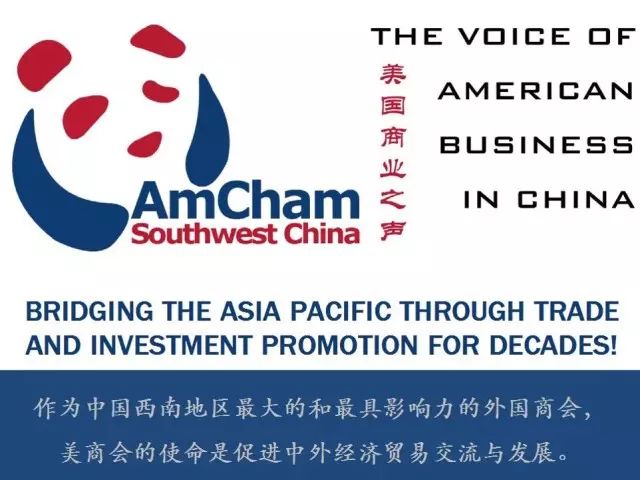 亲爱的美商会会员们和朋友们,欢迎参加美商会2016春季酒会暨新会员欢迎晚宴,与新老朋友一同聚首!结识伙伴,畅谈商业理想,了解更多美商会的运作与活动,就在这里!
西南美商会会员价:150元/位
非会员:300元/位
 4月21日周四晚
18:00-21:00
成都市神仙树南路41号
成都新东方千禧大酒店 2楼宴会厅
成都墨尔文教育咨询有限公司
特斯拉汽车销售服务(成都)有限公司
瑞美(中国)热水器有限公司
成都希尔顿酒店
惠普(中国)有限公司
捷普科技(成都)有限公司
安与恩咨询有限公司
成都弗珞唯珠宝有限公司
成都标点文化传播有限公司
环球医生国际医疗中心
境纯环境技术(上海)有限公司
成都美国学校
成都第一健康医疗管理有限公司
大者旅游
成都万达瑞华酒店
拜博口腔医疗集团
成都恒泰海拓房地产营销策划有限公司
成都亚非牙科骡马市店
成都悦动力文化传播有限公司
中电科柯林斯航空电子有限公司
安生美高新诊所